Micom 500E
A Micom 500 is a Mobat Micom 2 HF SSB radio packaged with a 500 watt amplifier and AC power supply. Most folks think of Micom radios as being Motorola products. Actually they are made in Isreal by Mobat, now a part of Tadiran. Motorola has an agreement to distribute the line.




In the summer of 2007, a number of the Micom 500E radios were auctioned on eBay. These pages are an effort to document the efforts to understand these units and make them operational. The photo above shows what a complete unit would look like.


As auctioned, the units did not include the control head, control head cable, microphone, or the rectangluar black plate to which the control head was mounted. The photo to the right shows a unit as auctioned.

The unit I received has part of a paper tag on the top that says "U.S. Department of State" The square green tag on the upper right corner says "This medium is UNCLASSIFIED. U.S. Government Property"

My unit appeared to have been unused, the inside was absolutely spotless with no signs of dust. Mine also had an intact seal from its last trip to the State Department's commo shop - something like "serviced by cleared American Citizen." Other buyers reported their units were similarly spotless. At least one buyer has powered his 500E up with the cable and control head from his Micom 2E and reports that his unit works fine.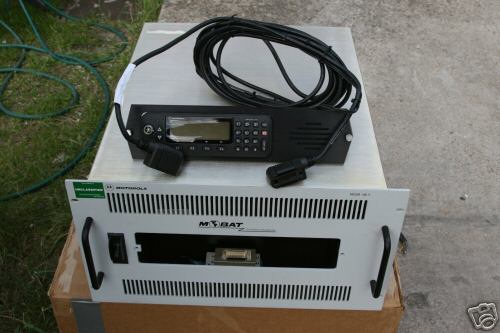 The photo above is another view of a complete unit. A complete Micom 500E would have the chassis, plus a control head mounted to a rectangular black plate that includes an internal speaker. In addition,
there would he a remote head cable coiled up and tucked inside the chassis.

Here is a closeup of a control head mounted on a Micom 500E.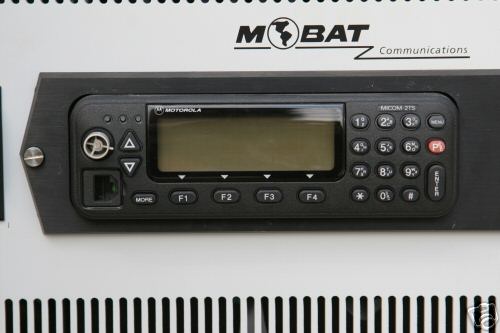 ---
What is a Micom 500E?
A SGC SG-500 solid state 500 watt amplifier. See user comments on the sg-500 at eham
A 110/220 AC power supply.
A 4 way break out board for the 25 pin accessory port on the back of the radio.
A control head and speaker
Assorted cabling to make it all work.

The Micom 2TS includes ALE functionality.


---
Documentation
SGC's manual for the SG-500 can be found here at SGC's website.

There are two different versions of the Micom 500E hardware - one version with an SG-500 amplifier, and a later version with a Tadiran 500W amplifier. The units sold on eBay all appear to have the SGC SG-500 amplifier.

The Micom 500E manual for the version with an SGC amplifier is here.


---
What Parts are Needed?
As received from the seller, the 500E needs the following to be operational:



Control Head.

A Micom 2TS or 2E control head. FLN2418



Control Head to Radio Cable.

A remote cable. The part number for the cable is HKN6112B.

This cable is also used by Motorola for their MCS2000 line of commercial mobile radios. Check ebay for these, as they do show up from time to time.

The same cable comes in different lengths with these part numbers:


HKN6111B - 10 Foot (3m) Control Head Cable
HKN6112B - 17 Foot (5m) Control Head Cable
HKN6113B - 22 Foot (7m) Control Head Cable
HKN6118B - 40 Foot (12m) Control Head Cable



HKN612B has been confirmed to work, and is the same cable as supplied with some Micom 2E installations. This is known to work, as the number has been taken from a working Micom-2 trunk mount installation.

If you call up a dealer and ask for the part number for this cable, you will be told HKN6098A. This is probably just a Micom / Mobat specific part number for the same cable as one of the MCS200 part number cables listed above.

Speaker. Several Motorola part numbers should work including HSN4027A and a newer version HSN4038A. These speakers were used by Motorola in trunk mount installations of the MCS2000 radio and should have the correct connector to mate with the speaker plug on the remote head cable.

I have a HSN4038A acquired off ebay, and it has the correct connector to mate with the HKN6112B remote head cable. As HSN4038A is specified as a speaker for a trunk mount MCS2000 it ought to work just fine.



Hand Microhone.

Motorola part number FMN1615A.
Motorola's on-line parts system shows this part number as Micom 2 specific.

Motorola microphone HMN3596A appears to be part for part identical with the FMN1615A, based on an examination of several mics of both types. I have had a definite report that when tested side by side on a micom 2, the FMN1615A and HMN3596A appear to peform equally. This is no surprise since both mics appear to have the exact same" innards."

The HMN3596A is a more common Motorola mic, and can often be found on ebay.



Programming Cable

- FKN4617A. When you order the RSS programming software, it may be possible to order a programming kit that includes this cable.



Dealers


There are two dealers you need to know about:
Mobat-USA is the US distributor for the Micom line, which is actually made in Isreal. Contact Mobat-USA for repair information.

Royal Comunications is a dealer with a significant focus on Micom radios. Talk to Dave Carothers at Royal. I have been talking to him at the 500E, so he is up on this unit which appears to be somewhat less common. I purchased my control head and programming software from Dave, he is knowledge and helpful and does not object to small orders.

Which ever dealer you talk to, make certain they understand that you are talking about the 500E and not the apparently more common RM500. Different beast.

---